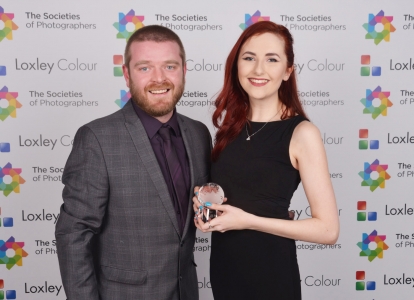 Permajet Oyster 271.
PermaJet awarded title of Best Professional Paper for the fourth year.
PermaJet Oyster 271 was awarded Best Professional Paper 2016 by The Societies of Photographers, making this the fourth year the inkjet media brand has achieved this prestigious accolade.


PermaJet picked up their award at The Societies Awards evening where over five hundred photographers and representatives from leading photographic brands around the world celebrated their successes.
This is PermaJet's third time winning the award with Oyster 271, with 2015 seeing the award go to Titanium Lustre 280.
PermaJet's Marketing Executive, Abi Symons, said "We're thrilled to be receiving this award again. Oyster 271 is one of our most popular media types, so to have it recognised as the best professional paper for a third time is an honour."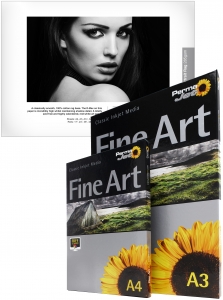 Digital & Fine Art Archival Printing Solutions for the Imagemaker.
NEW Portrait Rag 285gsm, now available!
Description of product:
A classic from the Permajet range that retains its 100% cotton base and subtle texture while making it marginally lighter at 285gsm. This mould-made product is acid-free and meets the highest digital art standards. Certified by an independent UCAS Laboratory this material, like many Permajet products, exceeds the Fine Art Trade Guild's archival standards and is ideal for Art and Photo reproductions. Smooth skin tones and image sharpness can be archieved with the wide colour gamut and high D-Max that the new coating brings.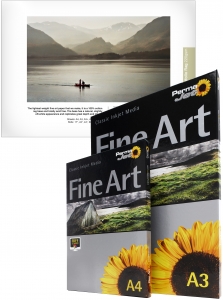 Digital & Fine Art Archival Printing Solutions for the Imagemaker.
NEW Portfolio Rag 220gsm now available!
Description of product:
At a weight of 220gsm it is a smooth mould made 100% cotton rag, pH neutral art paper, which is ideally suited for framers or print labs where the image is to be mounted and framed.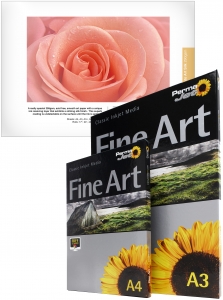 Digital & Fine Art Archival Printing Solutions for the Imagemaker.
NEW Photo ArtSilk290gsm, available as from now!
Description ofproduct:
The popularsurface and finish of the Smooth ArtSilkhas been updated to a 290gsm base offering printer friendly loading. The unique ink receiving layer that exhibits the silk/satin sheen once printed on has been developed to give greater colour vibrancy and increased scratch resistance. This superb coating is undetectable on the surface until the ink is applied andt hen bursts with a subtle yet, vibrant silk sheen.
The new Photo Art Silk 290gsm media is ideal for all reproductions of landscape, wildlife and creative digital art as well as portraiture.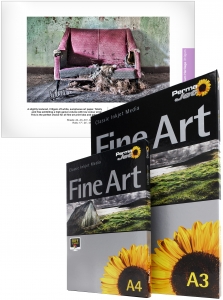 Digital & Fine Art Archival Printing Solutions for the Imagemaker.
NEW Museum Heritage 310gsm, available as from now!
Description of product:
A beautiful white art paper with a PH neutral base that is delicately textured. Produced from a mix of cottonand alpha cellulose which gives a soft feel while retaining the rigidity the art/lab printing and framing houses demand.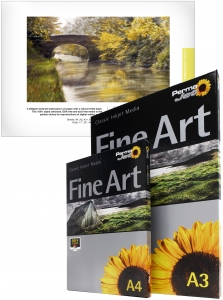 Digital & Fine Art Archival Printing Solutions for the Imagemaker.
NEW Artist Watercolour 250gsm, available as from now!
Description of product;
The Artist Watercolour 250gsm textured art paper has a sumptuous off-white base tone made from alpha cellulose. The mould-made base material with a highly defined rough surface that delivers incredible fine art prints.
Ideally suited to the reproduction of Artists' watercolour work or the output ofphotographicimages fromwhich you wish to achieve subtle artistic impressions. It has a very high colour gamut volume and a Dmaxof 1.6 which combine to give you an elegant and versatile art paper.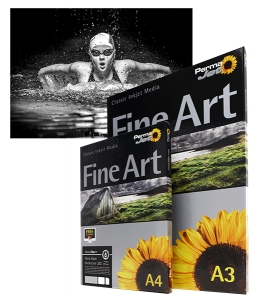 FB Distinction 320/ A4 to A2 cut sheets and 17
FB Distinction 320/ A4 to A2 cut sheets and 17", 24" and 44" 15 metre rolls.
The FB Distinction 320 maintains the unique characteristics of the previous version but uses new, advanced top and rear coating technology to deliver a flat surface for printer friendly loading.
The enhanced, bright white, acid free Baryta base offers exceptional reproduction qualities. The superior coating enables modern printer inks to achieve the highest Dmax rating in the World, therefore delivering the widest tonal range.
The premium gloss surface guarantees full archival stability - a standard which is found across the Permajet Fibre Based range of 100% alpha cellulose coated materials.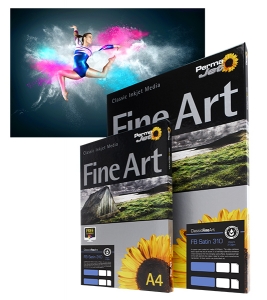 FB Satin 310/ A4 to A2 cut sheets and 17
FB Satin 310/ A4 to A2 cut sheets and 17", 24", 44" and 60" 15 metre rolls.
The FB Satin 310 is a fantastic new addition to the Permajet Baryta range. This long overdue introduction combines the best features of the popular FB Gloss and Royal with a sumptuous satin finish which emulates an un-glazed/air dried fibre based print. The subtle undulations throughout the paper base, combined with the new coating technology allows for detailed ink retention across a wide tonal range for a unique character.
This new media incorporates our superior coating with a unique satin top layer delivering pin sharp results. The alpha cellulose base is acid and lignin free and is internally buffered to enhance fade resistance from changing ozone effects. The coating provides an exceptional D-Max and colour gamut with pigment inks, making it ideal for both colour and monochrome reproductions.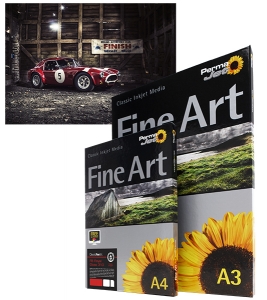 FB Royal Gloss 310/ A4 to A2 cut sheets and 17", 24", 44" and 60" metre rolls.
FB Royal Gloss 310/ A4 to A2 cut sheets and 17", 24", 44" and 60" 15 metre rolls.
Permajet's New FB Royal Gloss is an amalgamation of the most popular characteristics and features of FB Gloss and FB Royal. The enhanced coating has been placed on a new 310gsm base, delivering a flatter product for easy printer loading. It has a beautiful, natural white, acid-free base with the same subtle undulations in the paper base itself. Improved multi-layer technology delivers the highest colour gamut achievable with pigment inks which delivers an exceptionally high D-Max rating which enhances both colour and monochrome reproductions. Its consistent gloss surface and heavyweight base offers a true similarity to a traditional glazed fibre based print.
The impressive alpha cellulose base is acid and lignin free and offers enhanced protection from changing ozone effects through the fade resisting internal buffers.
Permajet enhance their range of Fibre Based papers with the latest Inkjet Technology.
Stratford-upon-Avon, UK. September 2015
Ten years after introducing their incredibly popular Fibre Based range to industry success, Permajet has adopted new technology to enhance the range for exceptionally high quality prints produced with modern printers and inks.

Following an eighteen month period of thorough market research, customer feedback and product development, Permajet have refined their Fibre Based papers to ensure they meet your current and future printing needs.

The new Fibre Based range comprises three enhanced products, which join the classic FB Gold Silk 315gsm and FB Matt 285gsm.

Utilizing new, multi-layer technology, coating processes and enhanced alpha cellulose base materials, Permajet have created a range of lay flat Baryta products that feed through your printers with ease. The enhanced coating, combined with modern ink technology ensures you get some of the highest Dmax ratings in the World today. These iconic photographic papers have evolved into a truly show stopping collection which are now available in advanced 15 metre length rolls and all sheet formats.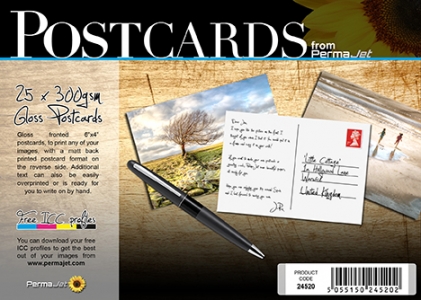 Greeting Cards, Postcards, Presentation Sleeves, Parer Creaser...
Greeting & Postcards.
Be part of the massive Greetings Cards and Postcards market with these brilliant new additions to the Permajet Inkjet media range which you can print through any standard inkjet printer....
Permajet has developed cards using quality inkjet media which allow you to be able to reproduce and sell your precious images or artwork at a premium price. The card has been coated with a high quality ink receiving layer which works well with dye or pigment based inks. Even more useful is that the reverse side can also be printed on for textual purposes with personalised messages and greetings and avoids the usual problem with ink bleed similar.
http://www.permajet.com/Products/PermaJet-Inkjet-Postcards-and-Greetings-Cards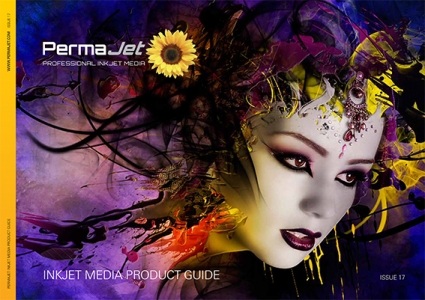 you can download here the new 2014 issue.
The new Permajet inkjet media and product guide 2014 is published.
You can download the newbrochure here.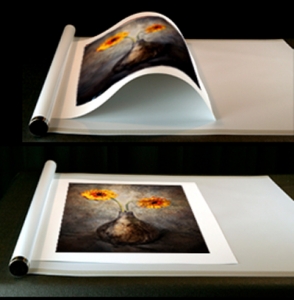 A unique Permajet feature!
Anti-CurlRoller.
The Anti-Curl Roller has been specially designed to take the typical curl out of prints and posters printed on roll media in minutes!
The first-of-its-kind accessory provides an ingenious solution to the common curling problems associated with true fine art inkjet roll materials, annoyingly costing wasted time and money to your business.
By simply using the anti-curl roller device, you can take the curl out of inkjet prints and fine art papers in minutes without causing any surface damage or creases to the printed images....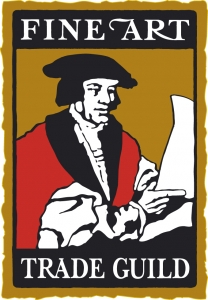 High quality archival print solutions
Permajet are members of the Fine Art Trade Guild based in London, England. Through their association with this organisation they have undergone strategic and documented tests on papers with both OEM & third party inks to ensure images meet the Guilds Standard of 6+ on the "Blue Wool Scale".
They have published the certifacates on their web site
to give users confidence in the level of archive-ability of their images.
permajet dealers
Bogemann BVBA
http://www.bogemann.be


Molenstraat 23-25
3600 Genk
089/35 21 45
089/35 02 70

Campion A. SPRL


Rue St-Boniface 13
1050 Bruxelles
02/512 13 31
02/512 50 98

Foto Guy BVBA
http://www.fotoguy.be


Vlaamsesteenweg 43
1000 Brussel
02/511 56 41
02/512 73 45

Fotoludiek
Ooststraat 79
8800 Roeselare
051/20 64 11
051/20 79 38

Grobet BVBA
http://www.grobet.be


Eiermarkt 25
2000 Antwerpen
03/233 21 79
03/231 87 53

Nelissen PVBA
http://fotonelissen.be


Brusselpoortstraat 9
2800 Mechelen
015/41 42 66
015/42 28 43

Paul Hotz nv / sa
http://www.hotz.be


Boomsesteenweg 77
2630 Aartselaar
00 32 3 870 56 56
00 32 3 870 56 57

PCH ProShop
http://www.pch.be


Rue Du Midi 147
1000 Bruxelles
02/511 66 08
02/514 43 82

Photo Galerie Bruxelles
http://www.photogalerie.com


Avenue des Celtes 3-5
1040 Bruxelles
+32 (0)2 733 74 88

Photo Galerie Liège
http://www.photogalerie.com


Bd. De La Sauvenière 1
4000 Liège
04/223 07 91
04/223 00 37

Photo Gilman SA
http://www.photogilman.be


Route De Herve 117
4651 Battice
+32.(0)87.67 43 23
+32.(0)87.66 02 88

Photogalerie Nivelles
http://www.photogalerie.com


Rue Johannes Gutenberg 20
1400 Nivelles
00 32 67 33 12 66

Robyns A. BVBA
http://www.robyns.be


Stapelstraat 80
3800 Sint Truiden
011/68 25 64
011/68 54 72

Selexion Clix Demuynck
http://www.demuynck-printing.be


Roterij straat 47 - 49
8790 Waregem
00.32.(0)56.60 39 39
00.32.(0)56.61 14 87

Studio Francine.com SPRL
http://www.studiofrancine.com


Boulevard du jardin botanique 41
1000 Bruxelles
00 32 (0)2.218 20 20
00 32 (0)2.219 49 64

Vox SA
http://www.vox.be

Avenue de Laeken 33
1090 Bruxelles
02/427 27 30
02/428 93 40