Hotz, Foba dealer for Benelux.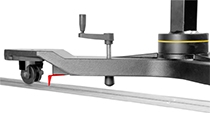 Foba MUFUS, special cast base that moves on a floor rail.
Studio stand on a rail.
Foba MUFUS; specialcastbase that moves smoothly on a floor rail.
It often happens that a camera or a sensor needs to be moved precisely in a defined direction. A studio stand which moves on a rail is suitable for this purpose.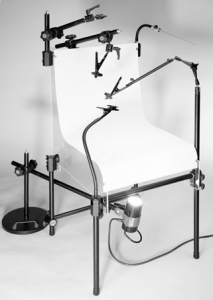 DIMIC, mini shooting table 100% compatible with COMBITUBE
DIMIC, versatile Mini Shooting Table FOBA!
Foba's mini shooting table DIMIC complements well the lower part of the product range. It is just as sturdy as the bigger models; it is as easily dismantled or mounted, has a mat surface, a colourfast sheet and is basically shadowless. Thanks to its COMBITUBE adaptors and other connecting elements, the table can be complemented and extended at will.
This table is especially adequate for small objects, even if they are heavy. The most comfortable way to perform shootings with it is to put it on a table. Thanks to its easy and fast dismantling it can be used only occasionally, when needed, and else stored in a very space-saving manner.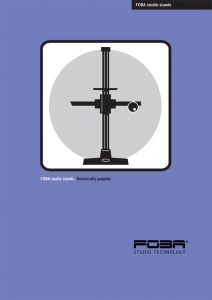 FOBA studio stands, Universally popular
Foba worked hard to improve their brochure of studio stands and tripods!
Philippe Ehrenberg;
"Some new products are presented and more technical data describes our products. In addition we added more applications and samples how to use our products. On page 18 you find a lot of other ways to hold cameras with FOBA products, not only with studio stands and tripods. You find also more details and explanations to our copy stand REPRO on page 15.
To show the great modularity of our products, we created new flyers with exploded views of our ASABA and our AROBE (DSS-ALPHA).
foba dealers
Paul Hotz nv / sa
http://www.hotz.be


Boomsesteenweg 77
2630 Aartselaar
00 32 3 870 56 56
00 32 3 870 56 57