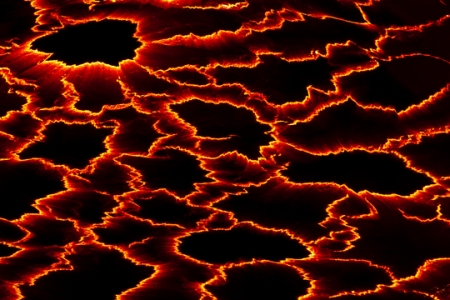 Winning image in the European Wildlife Photographer of the year 2011 photo contest
Press Release:
Belgium talented nature and wildlife Photographer Werner Van Steen, had a winning image in the prestigious European Wildlife Photographer of the Year 2011 photo contest.
His picture of a lavafield was selected out of 14.000 participating photos from 39 countries and became winner of the "Nature's Studio" category. He photographed these magnificent lava patterns inside the actif Nyiragongo volcano in Congo. Only about one and a half year ago, this place was not yet accessible due to poachers who had build their camp on the southern rim of this crater. Inside the 1km wide crater, at approximately 350m deep, a big actif lavafield can be found the size of two football fields. It is one of only four crater lakes on Earth so it is truly unique to witness it. With temperatures of about 1250°C, the lake was continuously moving and creating abstract formations.
Werner Van STeen travels the whole World; from the deep waters of the Pacific Ocean in search of a close encounter with the great White Sharks to the highest Mountains of the Himalaya.