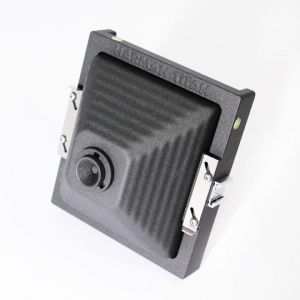 ILFORD PHOTO announce the introduction of the ILFORD Pinhole Photography Kit
A prototype camera was shown at Focus on Imaging earlier this year and received huge interest from schools and colleges, as well as existing pinhole photographers. The HARMAN TiTAN PINHOLE CAMERA has been designed in conjunction with, and manufactured in the UK by Walker Cameras who are well known for their range of Titan large format film cameras. The body is made from injection moulded ABS, finished with a very durable non-slip coating. All fittings are made from stainless steel. This combination of materials makes the camera exceptionally robust to withstand extreme natural elements, and rough handling. The camera, which can be used with any photographic film or paper, takes a 4 x 5 film holder and features tripod mount positions, built-in spirit levels, and an accessory mount. The kit comes with a 72mm wide-angle pinhole cone, which is interchangeable. Separate cones of 110 and 150mm, which is the same focal length as the standard lens on a 4 x 5 camera, are planned as optional extras.
Rec. Retail Price (incl. VAT): ca. 199€
8x10 inch Pinhole Camera available now!
HARMAN Titan Pinhole Cameras in 4x5 and 8x10 inch format are being shown at Photokina 2012 for the first time. Launched 12 monthsago, the robust lightweight 4x5 camera has caused quite a stir among pinhole enthusiasts and teachers of photography, worldwide. The camera, designed and manufactured in the UK by Walker Cameras, comes as part of the ILFORD PINHOLE PHOTOGRAPHY KIT that includes a handy Pinhole Exposure Calculator, and 10 sheets each of HARMAN DIRECT POSITIVE FB paper, ILFORD MULTIGRADE IV RC paper, and ILFORD DELTA 100 PROFESSIONAL film, all cut to fit a 4x5 film dark slide or 8x10 film. Due to popular demand a small selection of accessory items have now been made available for this camera. These comprise of 110mm and 150mm interchangeable cones, and a blank pinhole adaptor that can be used to replace the pinhole in any of the focal length cones and hold pinholes specially made by the camera users.
The 8x10 camera comes complete with a 110mm cone and all features of the smaller 4x5 version.