Photography has a new format: the S-System.
Developed exclusively for digital photography, every component of the S2 is purpose built for the highest performance, without compromise. The size and handling of a 35mm camera, performance and quality that set new standards for medium-format photography, with the best lenses in the world. Welcome to the new standard.
The Leica S system is sold exclusively through qualified specialty retailers offering professional photographers the best possible service and support.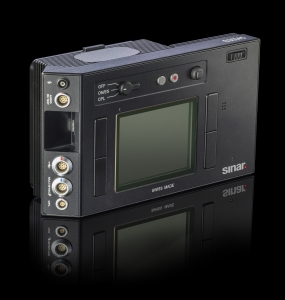 Product Launch at Photokina Cologne 20-25 September 2016!
New Sinarback S 30/45.
The new Sinarback S 30|45 was specially designed for mobile use and
is uniquely versatile for shooting photos and film. A high-resolution
3-inch display guarantees a perfect overview of photographs in every
situation or produces a live image directly on the display. WLAN offers
the option of comfortable operation with an iPad. The CF and SD
memory card slots ensure a reliable workflow also outdoors. With
tethered shooting, the USB 3.0 connection routes the data directly to
the Sinar CaptureFlow software. The Sinarback S 30|45 provides
maximum flexibility, extreme sensor sensitivity of up to ISO 12500 and
extensive capturing features for photographs and videos in the highest
quality.
Built-in Video Option
This digital back can do more than just take pictures. A Leica CMOS
sensor with micro lenses (37.5 megapixels) and a Leica Maestro II
image processor also provide the option of shooting videos in Full HD
up to 4K.
Sinar S-CS Adapter for Leica S-Lenses
Photographers now have the option of using Leica S-Lenses in addition to the
familiar Sinaron digital lenses! The new Sinar S-CS adapter makes this linkage
possible, providing a seamless connection. So, the Sinarback S 30|45, the S-CS
adapter and the Leica S central shutter lenses make up a compact and very simpleto-
use system unit.
Well-proven lenses on a new camera!
Well-proven lenses on a new camera,
Leica SL adapters from
NOVOFLEX
!
The new
Leica SL
enlargers the lineup of todays mirrorless system cameras. With the launch of this new camera,
NOVOFLEX
, as one of the first manufacturers worldwide is presenting a series of
lens adapters
, which enable the use of existing lenses with the new
Leica SL
. Thus, a huge quantity of lenses is available for this new camera right from the start.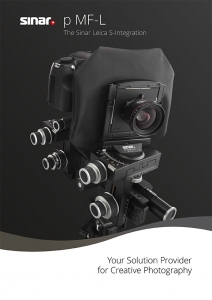 Sinar p-MF-L
The Leica S with the Sinar System.

High-end Professional Photography for

Leica S Medium Format

:
The

Sinar p-MF-L

was developed especially for photographers who wish to avail themselves of the unique quality characteristics of a Sinar view camera while using their Leica S high-end medium format camera body. Exact control of perspective and selective sharpness, the most important creative tools in photography, are set and evaluated precisely on a view camera – all these advantages are now available for Leica S users. In addition, this solution offers the benefit of a distinct increase in quality by using high-resolution Sinaron lenses designed specifically for digital imaging.