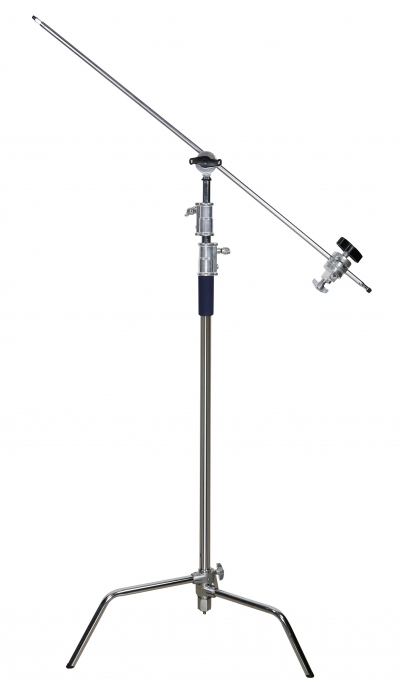 NEW Kaiser C-Stand
C-Stand 330 Boom Stand
Professional studio stand with swiveling and sliding boom and solid turtle base.

3-section centre column
with spring cushioning, 16 mm (5/8") standard spigot and leg warmer.

Swivel head
with mounting options for booms with different diameters.

Boom
with 16 mm (5/8") diameter and 16 mm standard spigot at both ends, 1/4" thread on one
standard spigot, 3/8" thread on the other standard spigot.

Detachable turtle base
, folds flat easily. With special locking mechanism that allows the tripod legs
to be swiveled and locked without using tools when assembled or disassembled.

Materials
: Centre column, boom and turtle base made of chrome-plated stainless steel, swivel heads
and connecting elements made of improved aluminum.

Second swivel head
for attaching further parts or as a counterweight (660 g / 1.5 lbs.).

Specifications:

Setting height: 159 to 326 cm (62.6 to 128.3 in.)
Boom: 125 cm (49.2 in.)
Pack size: 140 cm (55.1 in.), without tripod base
Max. load capacity: 10 kg (22 lbs.) centrical
Weight: 9.2 kg (20.3 lbs.), complete with second swivel head