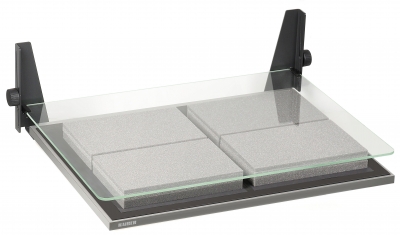 New Kaiser Book Holder
Book Holder 69/50 AR
5774: Book Holder 69/50 AR


With extra white glass pressure plate with anti-reflective coating on both sides. The optical interference coating ensures high color neutrality and minimum residual reflection (< 0.5 %).
For formats up to: 69 x 50 cm (27.2 x 19.7 in.), e.g. also for Berlin or Swiss format newspapers (opened size 630 x 470 mm / 24.8 x 18.5 in. resp. 640 x 475 mm / 25.2 x 18.7 in.)
Maximum height of original (book etc.): 145 mm (5.7 in.)
Dimensions (WxHxD): 76.9 x 22.6 x 55.4 cm (30.3 x 8.9 x 21.8 in.)
Comes with 16 preformed foam elements (4 x 20 mm / 0.8 in., 4 x 10 mm / 0.4 in., 8 x 5 mm /0.2 in. thick) and 4 black cardboard sheets: 2 x A4 (29.7 x 21 cm / 11.7 x 8.3 in.) and 2 x A3 (42 x 29.7 cm / 16.5
Holding device with glass pressure plate for the exact positioning when doing copy work from books, magazines and newspapers.
In the photo lab the book holder is also suitable for making contact prints from negatives on photographic paper and for alternative photographic processes using contact printing.
Solid base plate with non-slip coating on top and non-slip feet underneath. 6 mm (0.2 in.) thick glass pressure plate, foldable and variable in height. To work more ergonomically, more efficiently and original-friendly at a particular height, you can lock the glass pressure plate into a position between 0 and 145 mm (5.7 in.).
Several 28 x 18 cm (11 x 7.1 in.) preformed foam elements of various thickness are used to compensate for the height of an open book.
Black cardboard sheets can be placed under the page you want to copy so that the print on the back side or subjacent side cannot shine through the paper.