Explorer Cases are the first of their kind to be manufactured in Europe, indeed their clean lines and good looks reflect their Italian heritage. We have produced a range of virtually indestructible durable waterproof cases providing a solution for any equipment requiring a high level of protection. Applications range from Military and Aerospace to Computer and Equipment cases while their dust and waterproof qualities offer absolute protection making them ideal for use in the harshest environment.
The Explorer Cases have been subjected to a series of controlled laboratory tests to prove their suitability for use in the most extreme and hazardous applications and ensure that they meet the exacting standards of: IP67 Dustproof - Waterproof; Defence Standard 81-41 Level J; STANAG 4280 (edition 2); Conformity with the Directive 2002/95/EC - MIL-STD 810F/810G (depending on models) - Nato Stock Number (NSN) available on demand.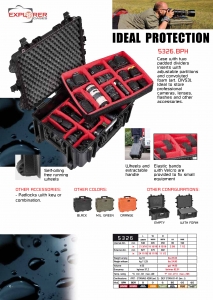 Photo & Video solutions.
New product line from Explorer cases by GT LINE: Photo & Video solutions.
As from today, the new line "Photo & Video" solutions is available in our showroom.
You can download the new "Photo & Video" catalogue here.
Explorer Cases dealers
K2 Profshop
http://www.hotz.be/www.k2profshop.be


Cleydaellaan 10 unit 8
2630 Aartselaar
00 32 3 303 14 53

Maene motors BVBA - Land Rover


Autobaan 8
8210 Loppem
050 81 69 88

Paul Hotz nv / sa
http://www.hotz.be


Boomsesteenweg 77
2630 Aartselaar
00 32 3 870 56 56
00 32 3 870 56 57